Dealers Den – Located in Metro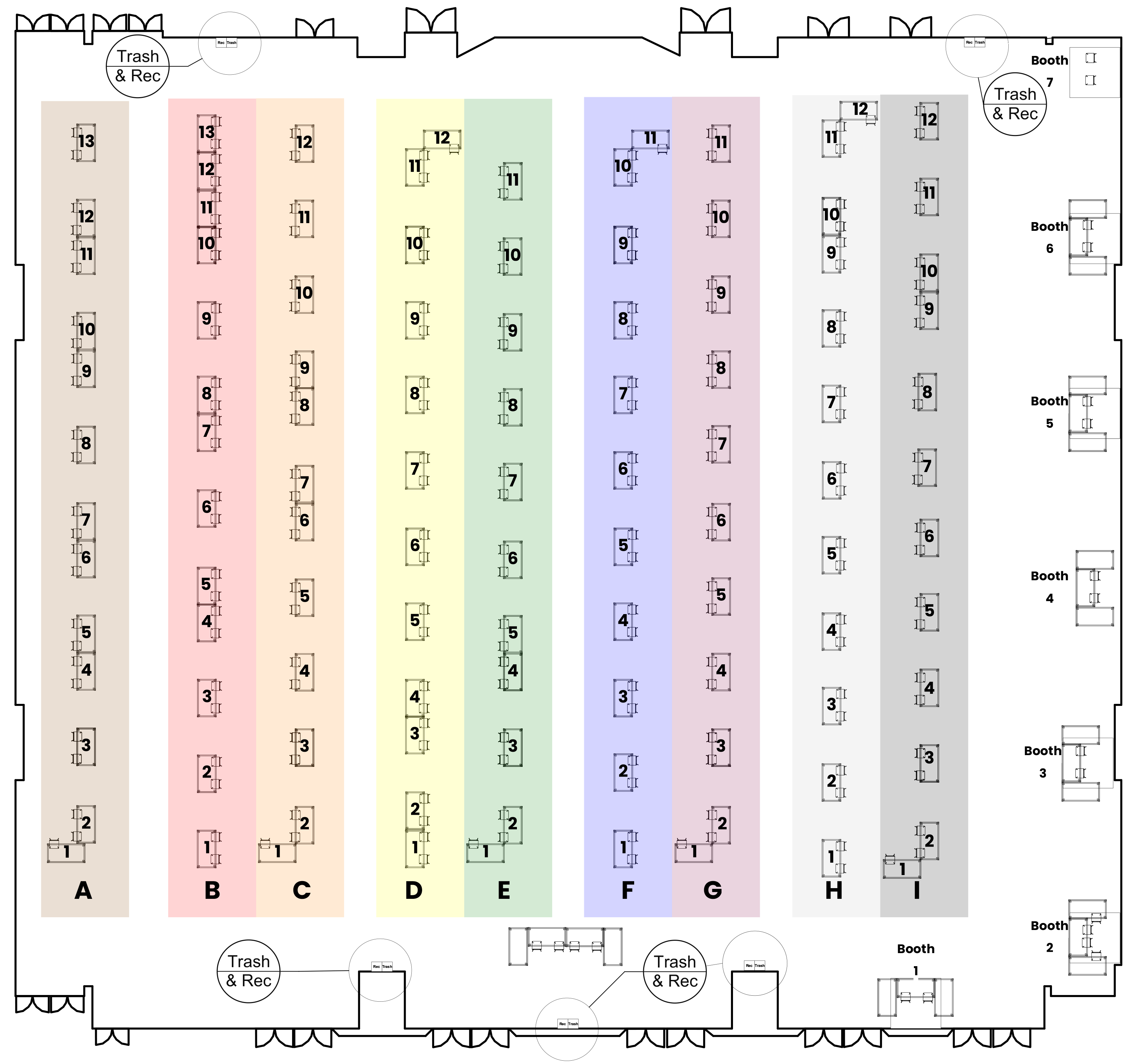 Alpha-9
A11 A12
I will be selling art and merchandise related to the Alpha-9 comic and artist Patto. Merch includes: Comics, plush toys, dakimakuras, posters, standees, prints, commissions, pins, stickers and shirts.
Alpha-Wave Productions
B2
a small press company that specializes in manga style comics and licensed titles from Antarctic Press & Ben Dunn. We also run an alternative press online store so we have lots of classic & newer furry comic titles available.
Animation Addiction
G1 G2
Want to own a piece of your childhood? Come down to Animation Addiction to buy original production used animation Cels from your childhood. Everything From All Dogs Go to Heaven to JOJO. We also have a large selection of NEOPETS toys and cards!
Anyare's Artwork
A4 A5

Digital and Traditional Furry Artist offering fully customized artwork!

Anyare offers Digital and Traditional badges, Coloured sketches, and more on commission!

Original art prints, merchandise and ready-to-hang art pieces are also available.

Art By Robin
I12

The artist formerly known as Amara is here with their cute art – critters, commissions, prints and badges. Once known for their Star Wars work, they've come back to roost in the fandom they hatched in.

Come with a reference or try your luck with a pay what you want random sketch!

Art by Sandy Schreiber
D6
Sketches, badges, original art, prints and hand-painted china.
Art of Yintero & KAMMATIKA
I7
A dynamic duo of local artists offering prints, buttons, figurines, and commissions of 3D Artwork & 2D Illustration.
ASIDMAB Jewellery/Galaxy Teas
BTH 2
Handcrafted costume jewellery plus Galaxy Teas loose leaf tea as well as other items
Beast Within
E1 E2
Come and meet igglypou! A furry artist selling dakimakuras, tees, stickers, buttons and more!
Belle the witch
H1
Hand made plush food, art, 3d printed tags.
Black Rabbit Productions
B6
Doing commissions and selling merchandise, come say hello. 🙂
BlueComet5-Arts/Hunters Creations
E11
Hello!
We are Ocean and Hunter, twins irl.
We offer Digital art, Traditional art, Bookmarks, Stickers, Paintings, Acrylic keychains and more!
Come visit us for some friendly conversation and cute art!
Bratty Bat Ink
E9
Bring a little bit of your favorite designs wherever you go, no matter the day or month with the Bratty Bat Ink's merch. Enjoy the beautiful and colorful variety of t-shirts, stickers, prints and pins that brings out a little furry out of you every time you wear it. Bright colors and vibrant visuals to subtly bring the animal in you!
Bright and Bushy co
A3
Dnd Dice bags in a rainbow of colours along with other handmade accessories!
Cackling Hyena
F8
Custom commissions that range from acrylic badges, buttons and digital art. Merchandise includes acrylic charms, stickers and pins. Sfw/nsfw with a colorful style.
Camp Feral!
G11
Camp Feral! is a summer camp for furs held annually in the wilderness of Algonquin Park, Ontario. Founded in 1998, it is the third oldest furry convention in the world, Canada's first furry convention, and the world's first furry summer camp!
CanFURence
F2
We are Ottawa's premier furry convention, happening from July 27-31, 2022 with our special guests of honour: NicNak and Dodge!
Chained Creativity
H4
Handcrafted chainmaille jewelry, scale fantasy armor, handmade greeting cards.
CINAMONCUNE
C1 C2
A place to find extremely tooth-aching cute merchandise for your friends (or for yourself, it's okay). Charms, stickers, enamel pins, and tons more!
Clawsome Creations
B9
Fursuits, Partials, accessories and more! Located in Southern Ontario we look to create fun costumes for people to wear and feel comfortable in at the same time.
Color Street- Fancy Tip
I1 I2
Dry Nail Polish
Cosmic Tears
E7
Outerworldly cute handmade arts and crafts just for you.
Crazdude Art & Design
F3
Crazdude specializes in realistic, semi-realistic, and toony SFW anthropomorphic and wildlife. She offers commissions for take-home as well as unique merchandise. Stop by for prints and printed products that all feature original designs. Whether you're hunting for small merch (like enamel pins, buttons and stickers) or apparel (like hoodies, T-shirts, and tank tops), Crazdude is a must see!
Critterama
H2
Plush animal toys
Crow Party
D3 D4
Prints, playmats, shirts, pins, and buttons!
Cubic Fox Designs
I3
Geekware, Drinkware, and Kinkware, all hand-crafted by Gaius himself.
So if ya want some cute paw coasters with a tankard, some game counters for a round of MTG in the game room, or if some leather accessories more tickle your fancy, give this table a visit and there'll for sure be something to catch your eye.
Daki Dreams
I9 I10
We're a custom shop that works closely with artists of all sorts to make neat things. While we're currently mostly known for our Pillowcases, Plushies, and Pants, we're always looking to make new things! If you have any ideas, come on over and tell us what you want to make, we're always interested in doing cool projects!
Daley Kreations
BTH 6
DK is all about cosplay, crafts, and creativity! We stock foam clay, silicone, and Varaform – the thermoplastic that will revolutionize your fursuit. Or peruse our collection of original Venetian, fantasy, and needle felted masks as well as other original art pieces.
Darbington Design
G6
Graphic Designer, Illustrator, dragon enthusiast, part-time gerbil. Pins, prints, badges and more. On the spot commissions are available as well.
Diamond420Creations
E10

Find a selection of fursuit parts and more!

 

Dolls Jewels Painting
I8
We create ooak dolls & unique jewellery. I paint mainly furries, dragons & nature. Commission, purchasing, & general inquires:
Dr. Wildlife
A1 A2
The Furry Fandom's Resident Zoologist. Guest of Honour for #FE2022.
Dragon Fox Doodle Box!!
E8
Offering a variety of fursuit plush props and accessories to accent your fursuit shenanigans! Also offering on-site quick turn around art commissions!
Dragonstorm Studios
F9
Toronto-based artist and propmaker specializing in fantasy and sci-fi work! Offering on-site commissions, prints, pins, and more!
Eevachu
G10
Eevachu is a multimedia artist who offers on-site art commissions, including sketches, conbadges, illustrations, and more! They'll also be stocking a HUGE variety of animal, furry and other fandom stickers, enamel pins, art prints, posters, buttons, zines, magnets, keychains, and sew-on patches!
Foxes and Peppers
D5
Music CDs, Vinyls, Cassettes, and more, all full of furry-created music. Fox and Pepper are selling their original songs, both solo and collaborative, professionally recorded onto various media. They also have stickers, pins, and other merchandise.
Fun-Fur-All
B12 B13
A little bit of everything! From custom drinking tumblers, to paws and pillows! We are also brining back the popular pride, pronoun and permissions paw basges, be sure to stop by and and say hi!
Gideon's Corral
H7
I'll be providing sketches, digital and physical art folios, posters, badges and just lots of all around nerdy fun!
Gobiraptor
I11
I offer a little bit of everything! From dakis to keychains, enamel pins to blankets, and more! I also offer commissions for both digital artwork and custom products. Come by and squawk with me!
Heather Bruton Illustration
D7
I offer furry and fantasy prints znd originals, bookmarks, stickers, art collections And sketch services.
Hobbitstee Wildlife Refuge
BTH 1
Homemade Horrors
BTH 4
Makers of monsters! Hand crafted, one of a kind, poseable art dolls from creepy to cuddly and all points in between.
Horse Fiddle Press
D10
Independent artists brand inspired by culture and nature.
Hyperkinetic Art
H6
Furry art prints and on site commissions!
Iron Raptor Studios
H8
Do you want art? Do you want really awesome retro art? Then Iron Raptor Studios is the place to go! It's also the place to go to get holographic vaporwave badges!
Jewels & Jumprings
D9
A small handmade business that specializes in chainmaille jewelry, wire jewelry, cute stickers, pins, and stationery
Joshiah's Written Works
G5
With novels, novellas and anthologies aplenty, Joshiah's Written Works is your one stop shop for everything literary! Whether you're looking to get your paws on a thrilling adventure, a bone-chilling mystery, or a spicy romance, we're sure to have the right book for you!
Justpeacheyy Creations
D11
Peachey is a variety artist that makes merchandise, custom commissions and fursuits.
KairiWolfArt
B10 B11
Furry artist in: Traditional, digital, and fursuit supplies!
KariPup Illustrations
E6
KariPup is a small artist from Montreal, Quebec. At her table you will find many cute things such as keychains, pins, buttons, stickers and more! She will also have commissions available for purchase!
Kitamon Plush
F5
Kitamon Plush has been making custom plushies since 2007 and made of all sorts of characters from cute to cool and has worked with video game companies.
KonoeiKreations
G9

Hello there, and welcome to my world of cuteness and colours! I go by the name Konoei/Crayons and I am a new ABDL artist in the furry community!

I specialize in pretty colours and clean lines, making things pop and stand out. Creating work for the community and creating works that are relatable are what I enjoy the most!
Come by for some lovely prints, charms, and stickers!~

Krakels Creation
I6
Krakels Creations produces artisanal soaps and many more crafts that are furry themed.
Kurenji's Workshop
C12
Kurenji's Workshop is an artist owned business specialized in making goodies and fursuits! We will be offering premades, commissions, and more!
LCSkeleton
C11
I am a pixel artist and illustrator who sells prints, posters, pins, and keychains!
Little Dragon Corp
E4 E5
Canadian Dice Company, specializing in Dice, Dice Accessories and beautiful accessible gaming accessories.
Made Fur You
BTH 3
Fursuits and accessories!
Market Candy
E3

All the Candy, with Less Waste.

We sell new and familiar candies that you love in plastic-free packaging! We use home compostable or recyclable packaging. Get your fix without the waste!

Meg Rabbit
BTH 7
Meg Rabbit is the author of Edge Anomaly, and a creative artist who makes stickers, fur-themed crafts, and art dolls.
Moth Monarch
B3
Original insect-inspired accessories and artwork, from screenprinted bandanas to enamel pins, stickers, charms, patches, and more all designed by the artist! Furry and fantasy art prints as well as sketch, ink, and badge commissions available on-site and for take-home.
My Arm Can Fly
F4
I bring all manner of wonderful, one of a kind creature companions to life as handmade needle felted sculptures! Come meet this charming array of little tricksters and familiars. These art dolls make wonderful friends and are happy on any cozy desk or bookshelf, ranging from just a couple of inches tall to over 30 inches long. I also have pins, stickers, and more! Custom work will be available!
NATHAN NUN ART
F1
Cat-focused anthropomorphic artwork with historical, political, and fantasy themes.
NaysPinClub
F7
Pins, apparel and even some fun customizable commissions!
Northern Kaiju
A9 A10
Canadian fursuit maker and lots of accessories !
Not Really Daily
H11 H12
Saucy is having a big discount sale this year! As well as on-site digital badges, printed and all! Prints, Stickers, Charms, etc… at tiny prices! This year only!
Novastar Arts
C5
Colourful arts for all! Vinyl decals, prints, stickers, enamel pins, buttons, and so much more! Commissions also available for a more personalized touch. So come on by and get something to add a splash of colour to your life!
Pancake Arts // PlainGermanica
H9 H10
A well-rounded table featuring art and apparel, these two boys showcase their works devoted to rubber, inflation, and other related interests!
Pancake is selling Art Commissions, Sketches and other artsy goodies.
PlainGermanica is selling Merchandise which feature his work on Shirts, Hoodies, Badges, Stickers and more.
PixlPhantasy Art
A8
Prints, paintings, resin, and other trinkets. Plenty to discover. 8×10, 5×7 and 4×6 prints. Original Canvases. Keychains, stickers.
Anthro and Animals. Something for everyone!
Portly Possum
BTH 5
Fursuits by Scuzzy! A selection of premade ears, tails, paws and partials. DIY options including patterns, bases, parts, supplies and more!
Rococo Neko
B7 B8
Furry tails and fluffy ears, pinback buttons, t-shirts, hair accessories and other original art work.
SewingStuffs Fursuits
G7  G8
Canadian builder of fuzzy critter costumes. We specialize in toony style fursuits. Stop by our table for ready to wear fursuit partials, fursuit care supplies and fandom merch
Shiro Design
F6
Dealing in prints and on Site sketchbook and badge commissions, as well as a bit of merchandise
Sibi Fursuits
B1
Making fursuits since 2016. We have a variety of merch for you, including fursuits, bandanas, collars, plushies and much more!
Slothie Studios
I4
We specialize in cute plushies and embroidered goods. And we will have a small selection of enamel pins on hand.
Snaggypeets
C3
A soft yet bitey plush merchant. If you like pastels and squishy artwork, then stop on by and pick up a friend~
Star Warriors
H3

I'm ScottDerg, freelance Canadian furry artist and also creator of the webcomic Star Warriors.

I am finally going to be able to sell my first issue of Star Warriors in person! I hope you look forward to purchasing a copy!

I also sell prints I have made of my IP and fan art as well as some other merch like buttons and stickers!

Sulkypup
B4 B5
A business that combines playfulness and functionality. Sulkypup sells apparel, accessories, and stationery goods.
Tentakal Creations
A6 A7
Fursuit Maker selling pre-made partials, fursuit parts and suiting accessories! We also provide on-site fursuit repairs
The Art of Nicole / Moto Yote
C6 C7

Artwork by Nicole! Prints, pins, keychains, stickers, lanyards, facemasks and more! On-site commissions will be available as well.

'Moto Yote' is a new brand brought to you by Nicole and her partner, Foxjump! We will have moto-related merchandise and apparel available for purchase!

The Forge – Animation house
H5
Meet and greet professional animation veterans Andy Powell and Dany DaeMon (Fnook, and Dae). Exclusive prints and physical merch for the first time ever! Custom sketches by the artists.
The Gryphon Generation
D1 D2
A book series about sentient feral gryphons in the modern world.
Books, Hats, Jerseys, Pins, Stickers, Dakis, Plushies
The Living Shadow
G3
I'm a freelance artist from Brampton, Ontario and I am selling prints, stickers, zines and all kinds of commissions such as sketches, illustrations, paintings, reference sheets and badges!
The Lonely Pariah Creations
D12
I am a small freelancer starting to get into dealing along with commission work. I have enamel pins, lanyards, prints, buttons, patches, stickers and hopefully more the closer I get to con. I work by myself and do not require much space. I would be offering at con sketches and would be open for traditional and digital badges prior and after the convention!
The Silver Dragon
C8 C9
Home of handmade precious metal geekery in sterling silver and bronze. With styles varying from fantasy to pop culture geeky, there's something for everyone!
The Tiger Writes
C10
The Tiger Writes Books: Science Fiction, Thriller, Adventure, some for a mature audience, some not. He even writes non-furry stuff, if you can imagine it
The Worlds of Jason Finigan
I5
Jason Finigan's novels would make a perfect addition to the library of sci-fi enthusiasts. At once adventurous, entertaining and funny, Jason's writing leads his readers into a world of fantasy where they get to explore and feel what it might be like to meet another sentient animal species.
Triangle Manor
G4
Triangle Manor is a Queer Furry art collective based out of the Boston, MA area. There are currently seven different artists contributing designs and items to the collective. We provide empowering & queer shirts, masks, stickers, punk patches, and fursuit supplies, and digital & traditional commissions.
Twilight Knights Cosplay
F10 F11

Twilight Knights Cosplay is your one stop shop for all your fursuiting needs! We sell premades suits, bandannas, tails, sprays, fursuit making supplies and more! We may also take fursuit repair requests and offer on site cleaning services depending on Covid Guidelines. 🙂

www.twilightknightscosplay.ca
www.canfur.ca

uukipi
C4
Kemono art, posters, charms and more! Be on the look out for the overly pink table with an abundance of chibi and kemono inspired art.
Xenotropos
D8
I sell original art, prints, handmade books, bookmarks, semi-3d art, and stickers – and more! Commissions welcome!
Xephyr
A13
Dealer table of the hard rock band Xephyr. We will be selling all our merchandise such as albums, T-shirts, buttons, and more!