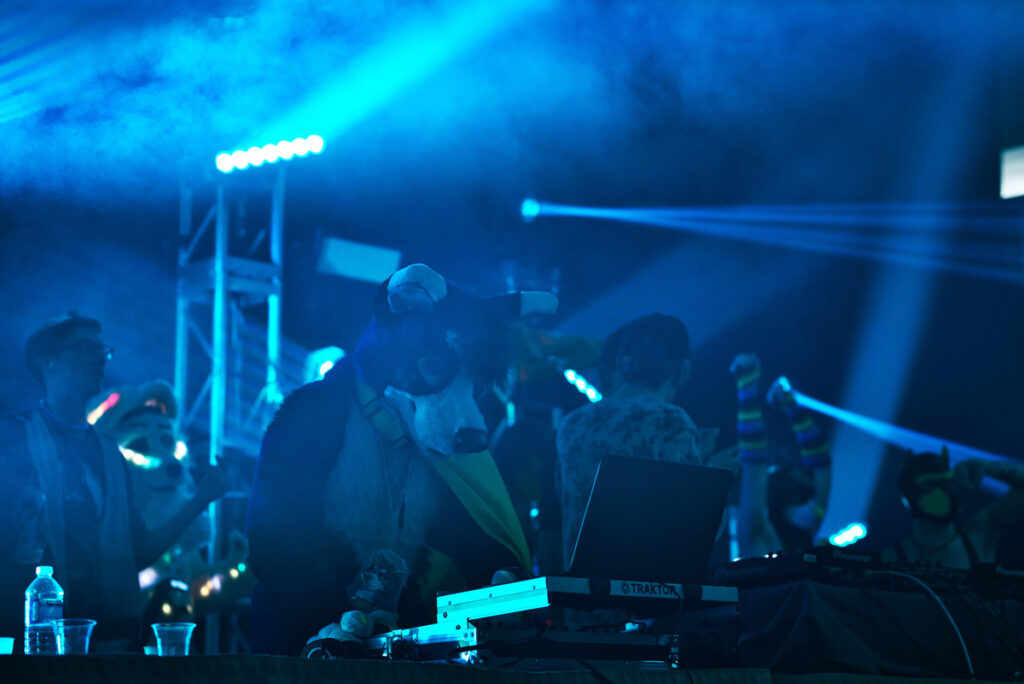 Submission deadline: Saturday January 15th, 2022 at 11:59 PM EDT
Want to DJ at Furnal Equinox?
Please read below and submit your application with the form at the bottom of the page.
DJ Demo Selection Process
Demos must be a MINIMUM of twenty five (25) minutes but no longer than sixty (60) minutes. Your demo should be reflect the styles and genres you plan to spin at the Furnal Equinox dances.
DJ's will be selected based on their

fundamental mixing skill, music selections, style, and trends within the fandom.

We do hope you keep in mind the taste of our attendees when selecting tracks.





You are not allowed to switch genres but you may switch and adjust tracks as per creative license. If the dance team asks for you to switch genres (from your

alternative genre list on the application), reasons may be conditional to you getting a slot on the Furnal Equinox lineup.





Scheduling of DJ sets are coordinated by the dance team, and once finalized cannot be changed. We will make our best effort to accommodate all availability requests and have conversations with parties to find the best schedule which fits each of the selected DJs convention plans.
Group or B2B sets can be submitted by
Each member submits their own mix but, under "DJ name" on the application use the name of the group, or alternatively, list each member (including yourself).



The group submits one mix that they've created together and under "DJ Name" place the group name as well as list each member.
What to Expect after You Apply
If you are selected, you will be emailed with additional info for your DJ set.Selected DJs will be asked for second or third choice availability in the event that their chosen slot is not available (E.g. A DJ only stated they are available to spin on Friday/Saturday however due to the amount of headliners on those days there are no more slots, so they will be contacted if they would like to spin on another day such as Sunday.)
DJ applicants who are not selected will also be notified by email, and are welcome to request reasoning and feedback for the decision. As we get closer to the convention, responses may take longer to get back to you, however all emails are read by our dance team.While responses and feedback are a courtesy for all applicants, all decisions are final – we ask that you respect the decisions made by the dance staff, who are ensuring the best possible lineup for Furnal Equinox's dances.
Good luck and happy mixing. We look forward to hearing your demo!
Selection and Judging Process
The dance team recognizes that we are both participants within the community, as well as leaders and event organizers. To that end we have been asked about the equity of the DJ selection process. 
The judging panel is comprised of 3 members of the dance team based on experience and on rotation on an annual basis. Evaluations are against a standardized rubric to minimize subjective factors such as genre preferences or personal tastes in music style.

Conflicts of interest between members of the judging panel and applicants are explicitly declared, and judges are excluded from ranking any applicants with conflicts of interest. In the event of all judges being unable to rank, other evaluators may be drawn upon to evaluate the DJ submission.
No special consideration is granted to applicants based on criteria such as historical tenure within Furnal Equinox, status as a staff member, personal status, or GOH status (past, present, or future).
Obvious plagiarism of DJ submissions are subject to additional scrutiny, review, and potential disqualification from future application depending on severity. This is in respect to the significant effort by DJs (like all artists) dedicated to the creation of their original content.
In an effort to continually improve, our future plans involve moving towards fully blind DJ submission evaluation to eliminate personal influence or bias within the selection process. We would like your input, and help in making an equitable process for all applicants – please get in touch with our dance team if you have feedback.
Sincerely,
—The Furnal Equinox Dance Team
Please fill out the form below to submit your application.